What is New Year' Eve in Russia? First of all, when the rest of Europe celebrates Christmas as the main holiday of the winter, Russians give more attention to the New Year. All the biggest celebrations are happening on the night between December 31 and January 1.
What's interesting, initially this day was celebrated on March 1, but in 1700 Tsar Peter the Great changed everything, by issuing a Decree that moved the New Year to January to celebrate it in tune with the rest of the Europe.
Each year there are different parties and Christmas tree celebrations for children, many of them happening in Moscow Kremlin, dances and fairs and other events that give the most magical feeling to the whole New Year event.
1. Adore the New Year's decorations
It's common for Russian families to decorate their homes in extravagant ways for this holiday, so if you're visiting Russia in winter, you may come across some unique decorations and lights. Streets are also decorated beautifully, with lights spreading through the streets illuminating cities in evening. The biggest decorations are, of course, in Moscow in Saint-Petersburg.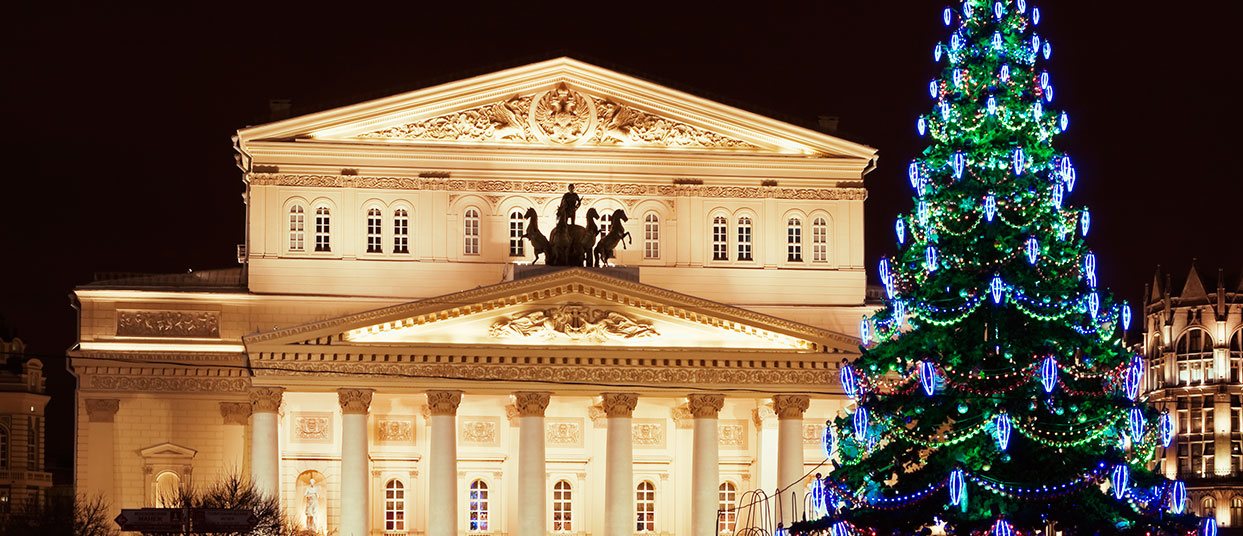 Be sure to check the large Christmas tree in Red Square of Moscow' Kremlin to be stunned by its beauty.
2. Eat a traditional feast meal
During New Year' eve it's common to have a huge traditional meal in Russia when the table is groaning from various dishes. People in Russia believe, that such holiday meal will bring them prosperity and wealth through the whole New Year. You can be invited to join local family to eat the traditional delicacies or go into the Russian restaurant to have the exquisite meal full of Russian gourmets.
Start with the Olivie salad, the most common dish for New Year table at Russia, than proceed with other Russian delicacies such as Borsch, Shchi, Pirozhki, Pelmeny, Bliny, etc. Be also sure to try a sip of vodka and drink traditional tea with honey and pryaniki. Such dinner will not only bring the note of extravagancy into your life, but will also emerge you into the world of Russian culture.
3. Listen to the President' address
Every year just few minutes before midnight on the New Year' eve Russian president addresses the nation with short speech about the past year and all what awaits us next. He also wishes the best for people in the country and thanks them for their support. Right after the speech, which is transferred over the whole Russia via television, the clock of Kremlin' tower is shown in a final countdown before the New Year is coming for its rights.
You may want to go to some public place during these moments to see the huge crowd of people standing in front of the clock and counting for the year to pass. While in Moscow, be sure to go to Spasskaya Tower of Kremlin for the most memorable experience of cheerful crowd waiting for the New Year' magic.
4. Make wishes under the chime of bells and enjoy the fireworks
When the counting is over, the chime of bells emerges to state that New Year has come to its rights. Right afterwards you'll see that streets are flooded with amazing and bright fireworks.
There is also a believe that if you make a wish, write it on the paper slip, burn it and drink the remains with a glass of champagne during the chime of bells, your wish will come true. No wonder, people all over Russia go along with this happy tradition.
While in Europe after the chime of bells people celebrate for an hour or so and go to bed, in Russia nobody sleeps this night. It's an essential part of the celebration (even for children) to be up till early morning and party with huge companies and families with lots of dancing and other activities. There are also lots of musical programs on TV during this night dedicated to the New Year only.
Even if it's played in Russian, you may want to watch some parts of it to get the feeling of Russian energy and happiness during such important events.
5. Visit Grandfather Frost and his granddaughter
Grandfather Frost is the mythical creature Russian children believe in. Unlike Santa Claus, it wears long blue or red coat, a matching hat and felt boots. With his granddaughter Snow Maiden he carries the huge pack of gifts to present the children who behave well during the year. While Santa travels in carriage with reindeers, Grandfather Frost walks the skies without any help (or drives the carriage with flying horses) and has a power to freeze everything around him.
You can see their figures under the Christamas trees or people dressed as them at children' parties. You can also travel to the home of this character, Velikiy Ustug city. The tour there will explain you everything about this magical figure.
6. Give presents
If you are invited to a party, be sure to bring the gift with you. It is traditional to give presents after the midnight on New Year and receive presents from your family and friends. In Russia all presents are given on New Year' eve, not at the Christmas party!
7. Experience the most Russian activities during New Year
Russians celebrate New Year for almost two weeks even after the initial date of New Year coming. Of course, people do it because they have a specific holiday season with other holidays such as Christmas and Old New Year (January 13, the day all the celebrations are done and people are getting ready for the new working year).
Due to such huge period of time celebrating, you can happily experience the most of Russian activities.
If you want to arrange something special, we'll be happy to suggest you several things.
We advise you to walk through traditional fairs with different dishes and drinks being offered. You can drink mulled wine or eat hot pancakes with different stuffing.
You can also ride the 'troika' carriage to see the beautiful Russian winter while being driven by beautiful horses.
Winter holidays are perfect for ice skating under the open skies, so do not miss the opportunity. If you are in Moscow, we advise you to go on Red Square, where you'll find an enormous ice rink to skate with other people. Just be sure to wear a coat, Russia can be freezing and cold in winter.
Also, don't forget to use this time to experience going to traditional banya (sauna) where you can relax and get healthy after the cold weather outside.
| | |
| --- | --- |
| | 5 |